Shifting demographics & post-pandemic lessons learned are changing the way we build spaces for learning.
More than two years after the start of the pandemic, educators, designers, and builders have had to learn much in terms of how we now think about spaces designed for learning. It's forced us to ask: how, where, and when does learning best occur? And what we've found is that many schools are right-sizing and retooling both their teaching methods and physical campuses around several related factors: technology, immersive learning, and human well-being.
So what does this mean for our industry moving forward?
To help us understand, we've looked at some of our most recent projects for insight.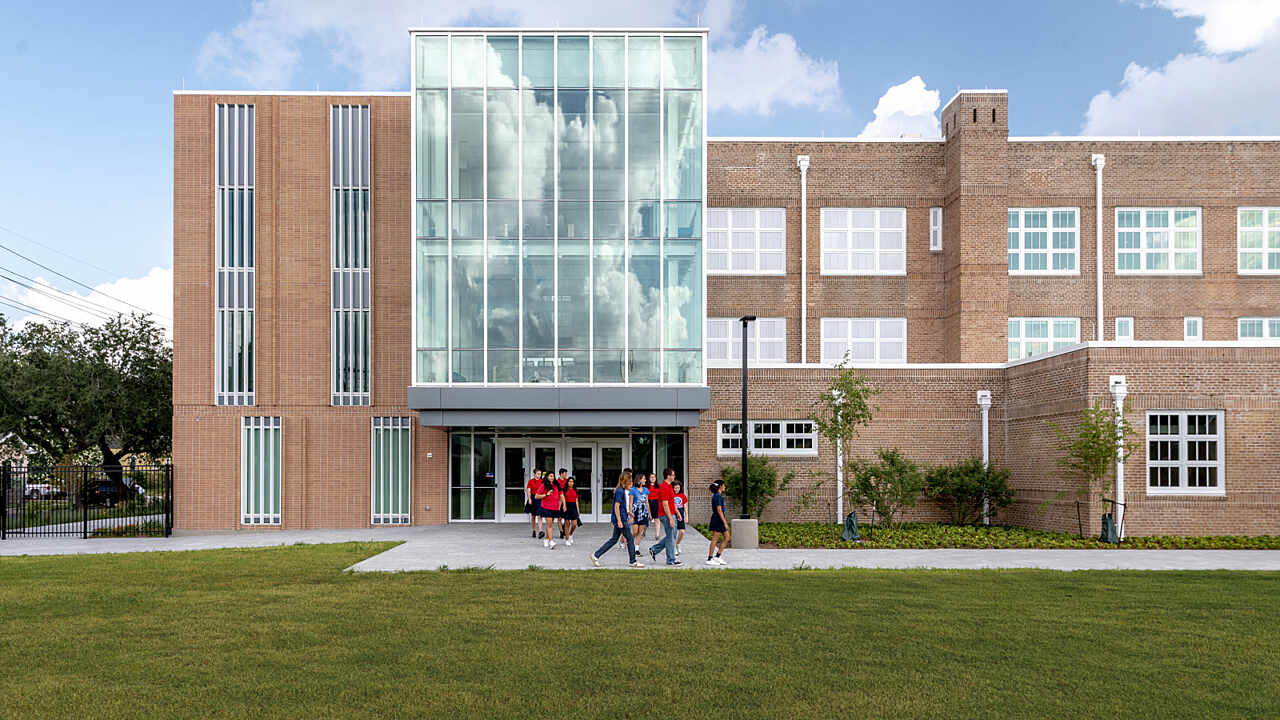 Our team recently completed the renovation and expansion for Lycée Français de la Nouvelle Orléans, one of the city's newest K12 immersion schools. The program fills a special niche in the city's curriculum, allowing students the opportunity to earn both a high school diploma and French Baccalaureate simultaneously.
Located in a historically significant building in the Carrolton neighborhood, the renovations to the existing 32,000 SF building brought several challenges, including extensive termite and water damage, and the need to match existing materials such as historic brick and windows which have been neglected since Hurricane Katrina.
​But despite these challenges, the renovated campus, which includes a new 9,000 SF addition, addresses several of these post-pandemic changes in the industry.
Hybrid learning requires updated technology.
We know that technology has long played a critical role in education. But the increasing demand for remote and hybrid learning has changed expectations and with it the need for greater connectivity and access to new tools. At Lycée Français, the school's state-of-the-art media library is located on the third floor of the existing building and features several advanced tools for digital collaboration, including a smart board and A/V equipment – features that can also be found in each of the 16 classrooms.
We also see this in our work at St. Paul's School where our team recently completed renovations to Benilde Hall. The complete interior renovation included new MEP and A/V systems as the school prepares to meet the increasing demands of hybrid learning.
In both cases, extensive coordination with the electrical designer and subcontractors was critical to ensure proper installation and performance of these systems.
Traditional methods are a thing of the past.
Likewise, K12 and higher education institutions are exploring more options for hands-on, experiential learning to meet the demands of a shifting economy and associated workforce. Flexible and adaptable classrooms are the focus, along with inter-disciplinary crossover. In addition to traditional classrooms, for example, Lycée Français also includes two science laboratories as well as "huddle rooms" to encourage small group study and interaction.
Similarly, the 84,000 SF renovation and addition for the St. Mary's Dominican High School STREAM building included laboratory classrooms available for several disciplines of study.
And in yet another example, our historic renovation of Tulane University's Richardson Building just last year included several classroom types across three floors from larger lecture-style rooms to smaller huddle spaces, offering students and faculty more flexibility in how they teach and collaborate.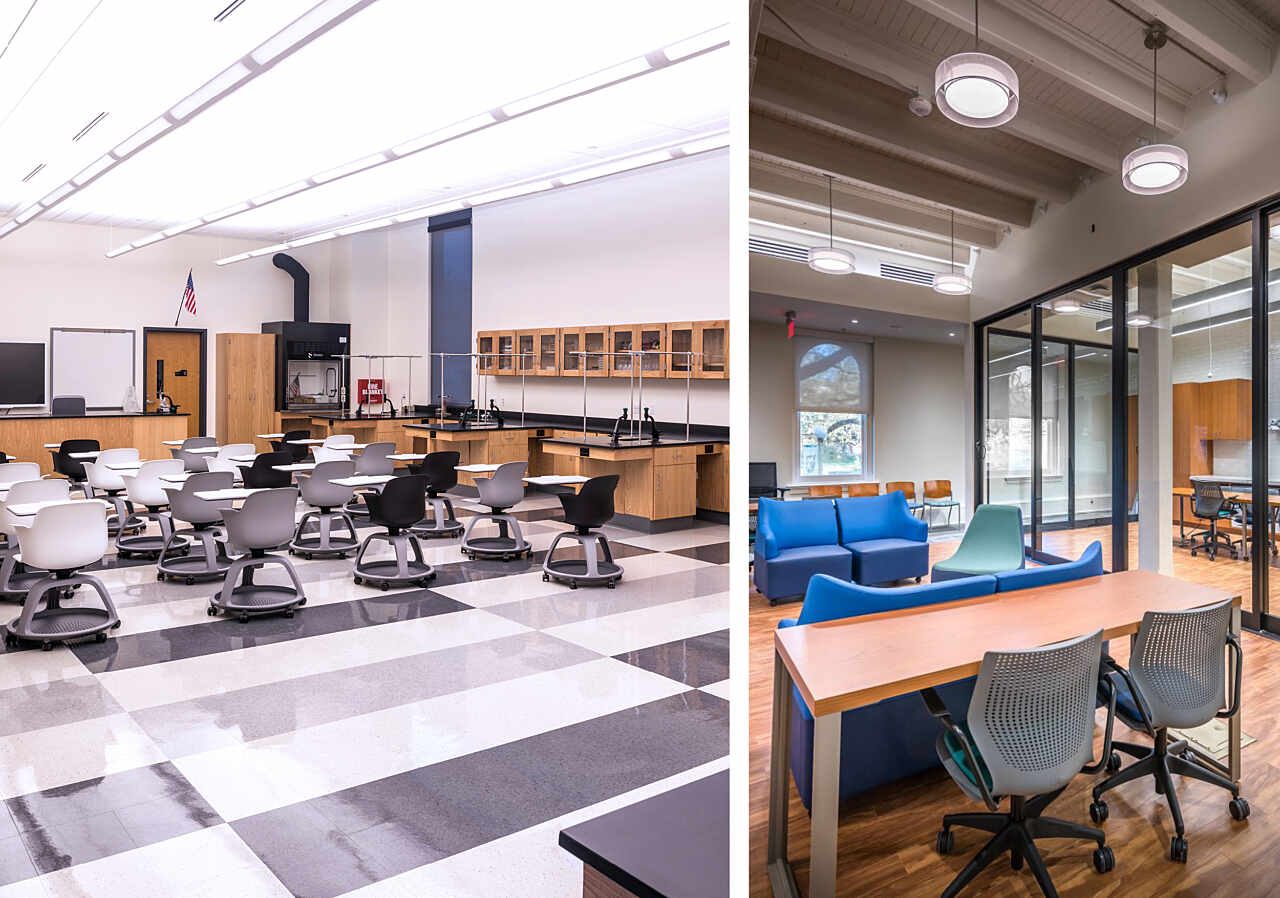 In all three examples, our team coordinated with the architect and MEP consultants to ensure these systems were compatible, provide seamless integration, and ensure that each facility performs as intended after turnover. This included overhead and in-wall coordination, and coordination of owner-provided laboratory equipment.
Health & well-being are more important than ever.
Student and faculty health and well-being continue to be front-and-center in the minds of administrators, designers, and builders as we leverage lessons learned and best practices from the pandemic. Proper ventilation, access to natural light, and well-designed spaces each contribute to overall well-being. Opportunities for "serendipitous collisions" and physical activity remain critical components of healthy learning.
The main entrance of Lycée Français, for example, features a three-story clerestory atrium flooded with natural light. Each floor opens to a shared communal space that overlooks the adjacent outdoor field. The red door that once served as the main entrance is now observed by the red staircase. A thin brick veneer was applied to the interior walls to match the original historic brick.
At St. Mary's Dominican STREAM building, the campus features an interior courtyard and garden for students to gather. In this case, the high-performance exterior features brick, insulated metal panels, and a curtain wall system that serves as the backdrop for the atrium.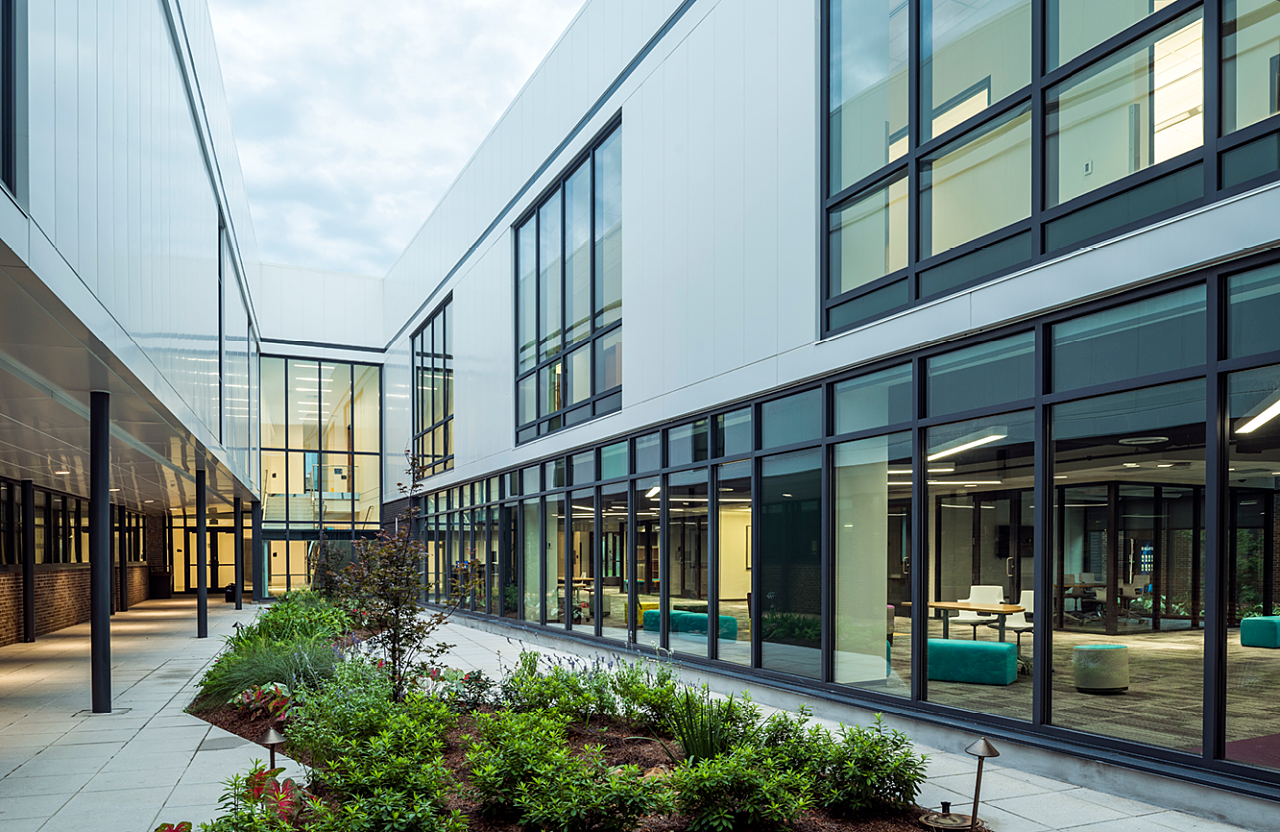 The new 15,000 SF Fine Arts Center and main entrance for Academy of the Sacred Heart brings not only a complete façade restoration, but also a new check-in lobby and covered entrance that provides the school with a clear point of entry and greater security.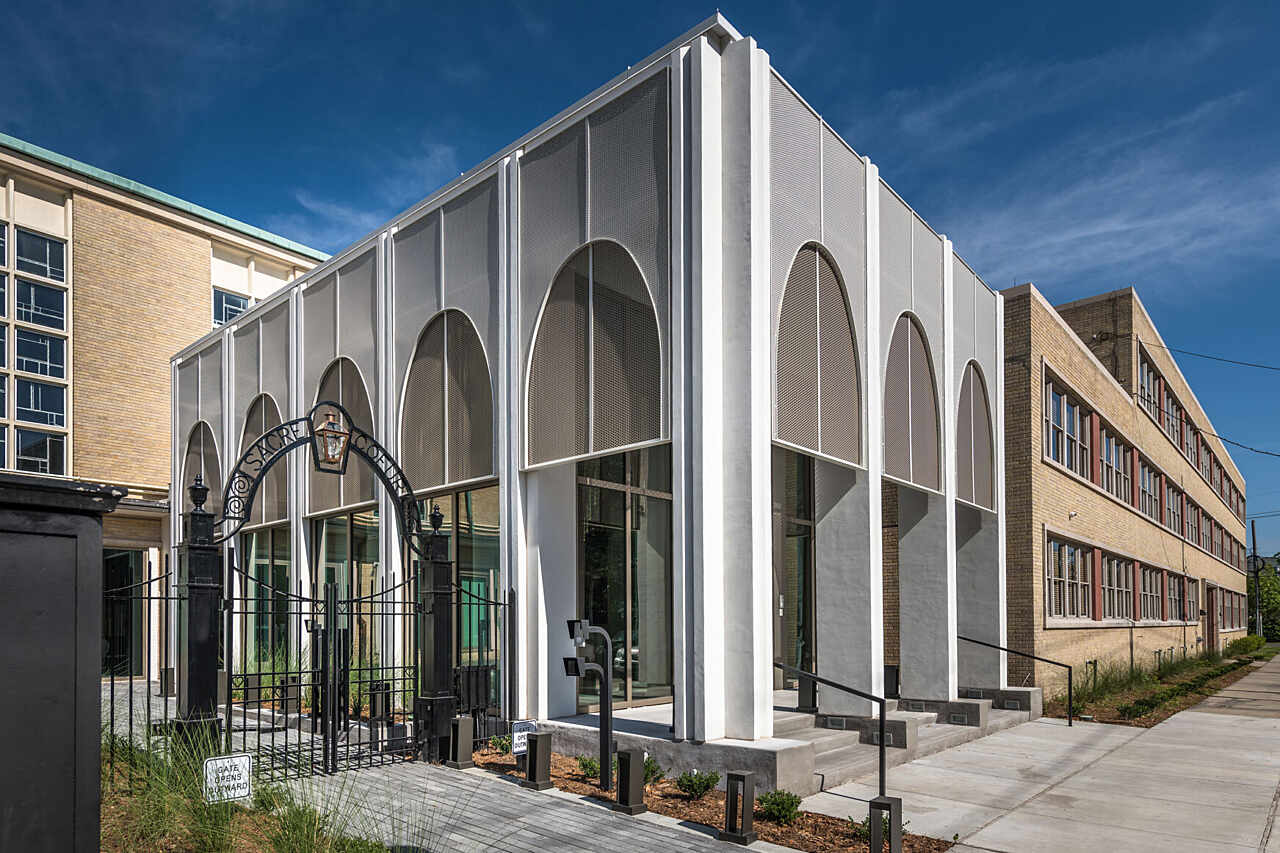 The beginning of a new chapter
Despite the many unforeseen challenges presented throughout each of these projects, each renovation and addition reflects a sense of change and evolution within education. The institutions have wisely addressed the new paradigm of how, where and when learning best occurs. In the case of Lycée Français, for example, this was done while achieving a balance between historic renovation and a contemporary addition without the components feeling too distinct.
Our team closely monitors shifting trends within our industry across all major sectors of our work, including K12 and higher education. It helps us better collaborate with our design partners, particularly in CMAR delivery methods where our team is engaged during the design phase to assist with budgeting and material selection. Understanding how each industry is affected by these trends and impacted by change makes us a smarter, more effective partner for our clients.
As for Lycée Français, our team worked tirelessly to meet the owner's challenging schedule and tight budget requirements. Through collaboration and research, we developed time-saving and effective solutions for this sensitive historic renovation and new building effort. All this while navigating Hurricane Ida in the summer of 2021 during the height of the construction process.
The resulting project reflects a sense of change and evolution through visual cues such as gradients and shifts in various patterns. The 3- story atrium at the entrance of the building is set to inspire countless generations of students. The prominent red door that once served as the main entrance to the school is now observed by the red staircase featured in the new addition. This signifies both the beginnings of the school and the momentum that its faculty and students maintain moving forward.
"This school year (2022-2023) we will celebrate our very first graduating class in the newly restored building," says Chase McLaurin, CEO of Lycée Français. "There are 220 students who occupy the building this school year. We have 1,069 students in our entire school district who will be using the Priestly campus for special events... The new addition, with the state-of-the- art library, media center, and soaring three-story atrium will certainly inspire a sense of awe in anyone who enters the building."
Noteworthy Projects & Recent Completions
Ronald McDonald House Expansion
Our team is currently renovating two historic buildings on the Children's Hospital campus, creating an all new expanded 17,000 SF, 22- bed facility with a home-like environment that supports a community of healing.
Thibodaux Regional Wellness Center Expansion
Recently completed expansion of the original 252,000 SF Wellness Center that features 12 tennis courts, 12 sand volleyball courts, football/soccer field, an 8-lane track (all built to NCAA standards), as well as two pavilions, restrooms, concession area, and ponds.
Franklin Foundation Hospital Wellness Center
This 63,000 SF wellness facility will include outpatient medical clinics, cardio and physical rehab, fitness and exercise studios, exercise and lap pools, outpatient mental health, meeting areas, coffee bar/café, short-term childcare, and support services.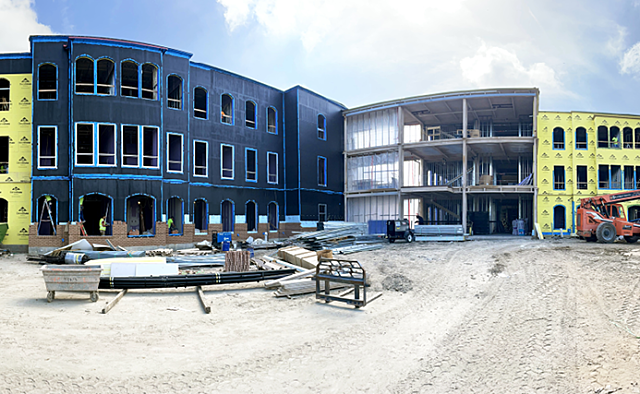 Poydras Home Expansion and Renovation
Progress looks great at Poydras Home. In our last update, structural steel was just taking shape on the second of two 3-story buildings back in February. Our team is moving forward with interior and exterior build-out, on track for completion later this year.
Second Harvest Food Bank
Our team is nearly complete with this $15 million renovation and upgrade of the Second Harvest Food Bank headquarters as the nonprofit aims to double services for those in need. Grand opening is scheduled for early October 2022.
Kyser Hall, Northwestern State University
Our Preconstruction Team continues its hard work on Kyser Hall at Northwestern State University, currently wrapping up demolition of Caddo Hall as we prepare to begin construction documents.
DonahueFavret earns spot 
on two leading contractor lists
DonahueFavret Contractors, Inc. has earned a spot on two leading contractor lists from the national industry publication Building Design+Construction: "Top 200 Contractor for 2022": BD+C Top 200 Contractors for 2022, and "Top 50 Senior Living Facility Contractor for 2022": BD+C Top 50 Senior Living Facility Contractors for 2022
Driving FORE Charity back for another round
We can't wait to see you all next month!
Thank you to all who have signed up and sponsored so far. We can't wait to see you next month! For anyone still interested in sponsoring the event, please contact Lauren Andrews at 985.626.4431 or at laurena@donahuefavret.com. There are several opportunities still available.