Another record-breaking year.
This year proved to be another stellar year for our company, and we owe that success to our amazing clients, designers, and trade partners. From project wins and start-ups, to substantial completions, awards, and philanthropy, 2022 was our best-performing year to date, continuing the trend of substantial growth for the last three years in a row. In this last newsletter of the year, we reflect and give thanks on this success, and look ahead to what next year might bring.
Major project wins and start-ups
Significant projects kick-off in healthcare, commercial sectors
SMH Surgical Services and Patient Care Tower
One of our most recent projects to begin is the new $50 million expansion of Slidell Memorial Hospital in partnership with Sizeler Thompson Brown Architects. The hospital is adding a three-story, 64,000-square-foot building at the back of its campus that will house new operating suites, another ICU unit, and an additional inpatient care unit with private rooms.
Existing structures on the hospital campus will be demolished as part of the project.
When completed, the new Surgical Services and Patient Care Tower will include 12 ICU rooms on the first floor; seven operating suites on the second floor; and 26 private rooms on the third floor that can be switched to negative pressure to help treat airborne viruses.
The project also includes the renovation of a 14,000-square-foot space for surgeries on the second floor of its existing facilities.
Mandeville Emergency Hospital
With the slab pour in June, our team kicked-off construction of the 12,000 SF Mandeville Emergency Hospital in collaboration with KAIM Architects. This ground-up project features a one-story standalone hospital that when complete will include more than 10 patient rooms, an MRI, CT scan, and Xray rooms.
Our Lady of the Lake Money Hill Clinic
In September we announced the groundbreaking of this new 5,000 SF medical office building for Our Lady of the Lake Northshore. Our team is providing design-build services in partnership with Greenleaf Architects. The wood-framed building will include imaging equipment, labs, exams and procedure rooms, as well as multi-purpose training space.
The project is scheduled for completion in early 2023.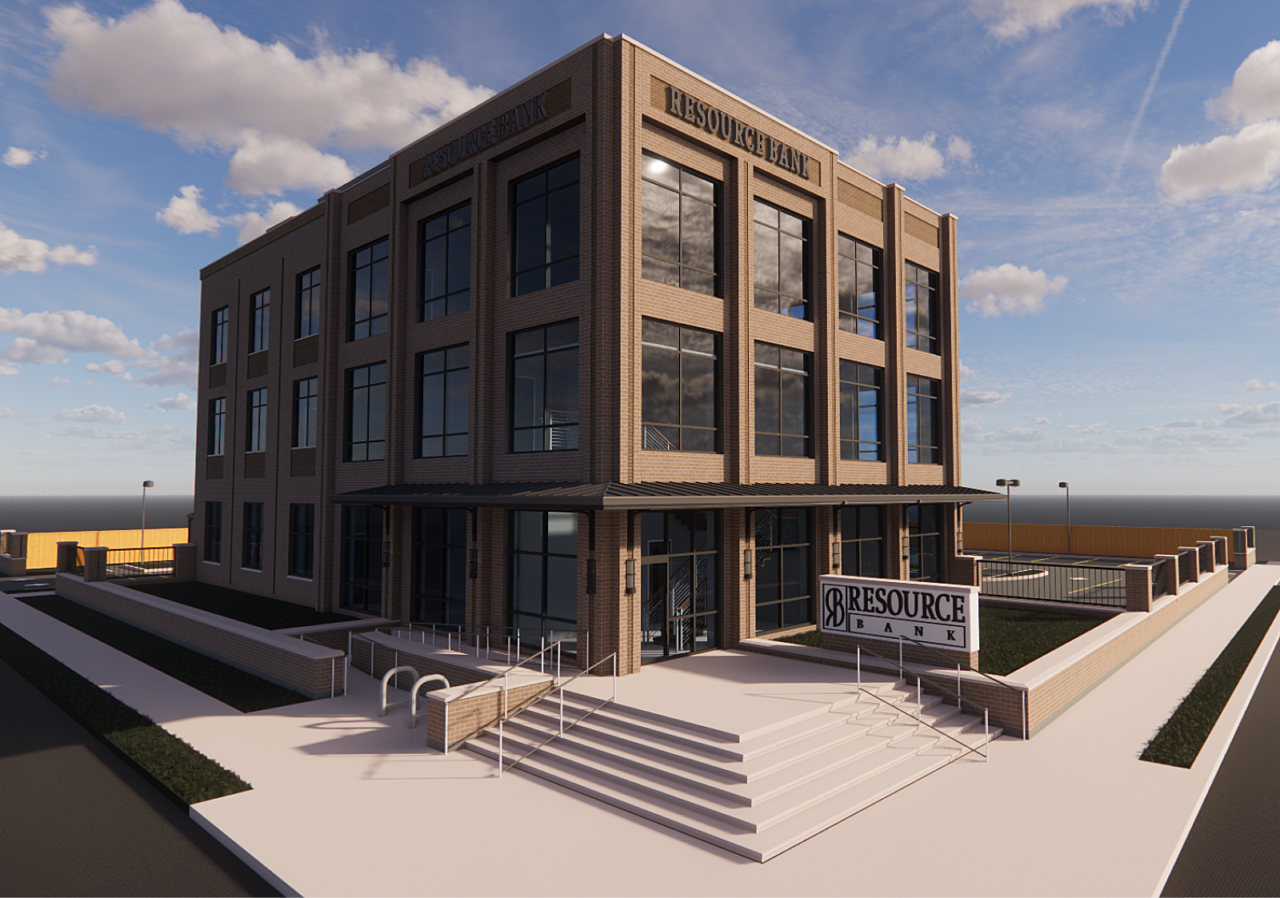 Resource Bank, Tchoupitoulas
Continuing our relationship with long-term client Resource Bank, our team broke ground last quarter on this new 18,000 SF building for the bank's Tchoupitoulas location. The building will consist of banking and office space on the first floor, shell space for future build-out on the second and third floors, and conference/event space on the fourth floor with a rooftop terrace. This project is in collaboration with Verges Rome Architects.
Major project completions
DonahueFavret adds more diversity to its portfolio of work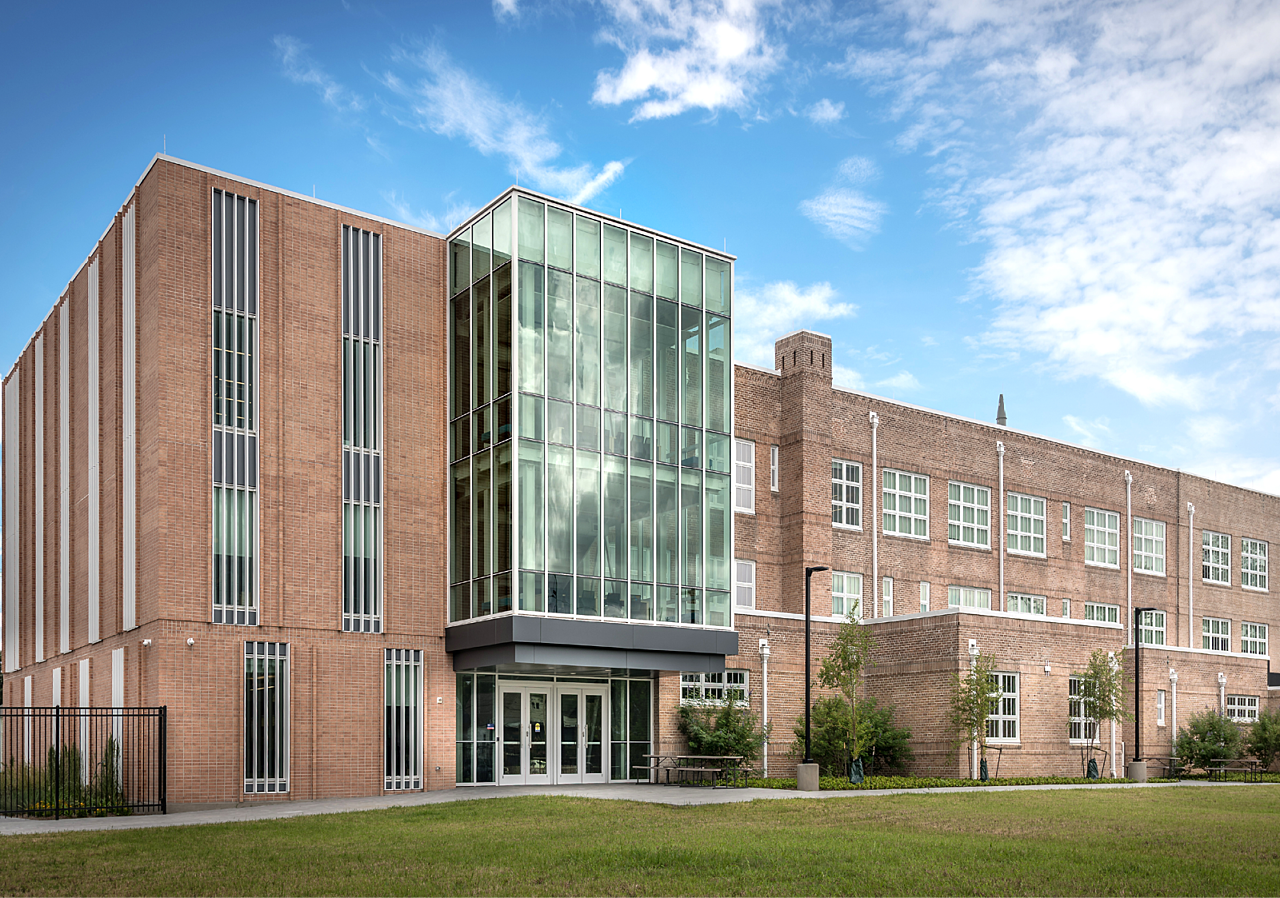 Lycee Francais de la Nouvelle Orleans
Last featured in our Q3 Newsletter titled "New Opportunities in Education Change How We Build Spaces for Learning," Lycee Francais celebrated its official ribbon cutting in November. Located in a historically significant building in the Carrolton neighborhood, the renovations to the existing 32,000 SF building brought several challenges, including extensive termite and water damage, and the need to match existing materials such as historic brick and windows which have been neglected since Hurricane Katrina. But despite these challenges, the renovated campus, which includes a new 9,000 SF addition, has quickly become an asset to the city's offering of private charter schools.
This project was in collaboration with EskewDumezRipple.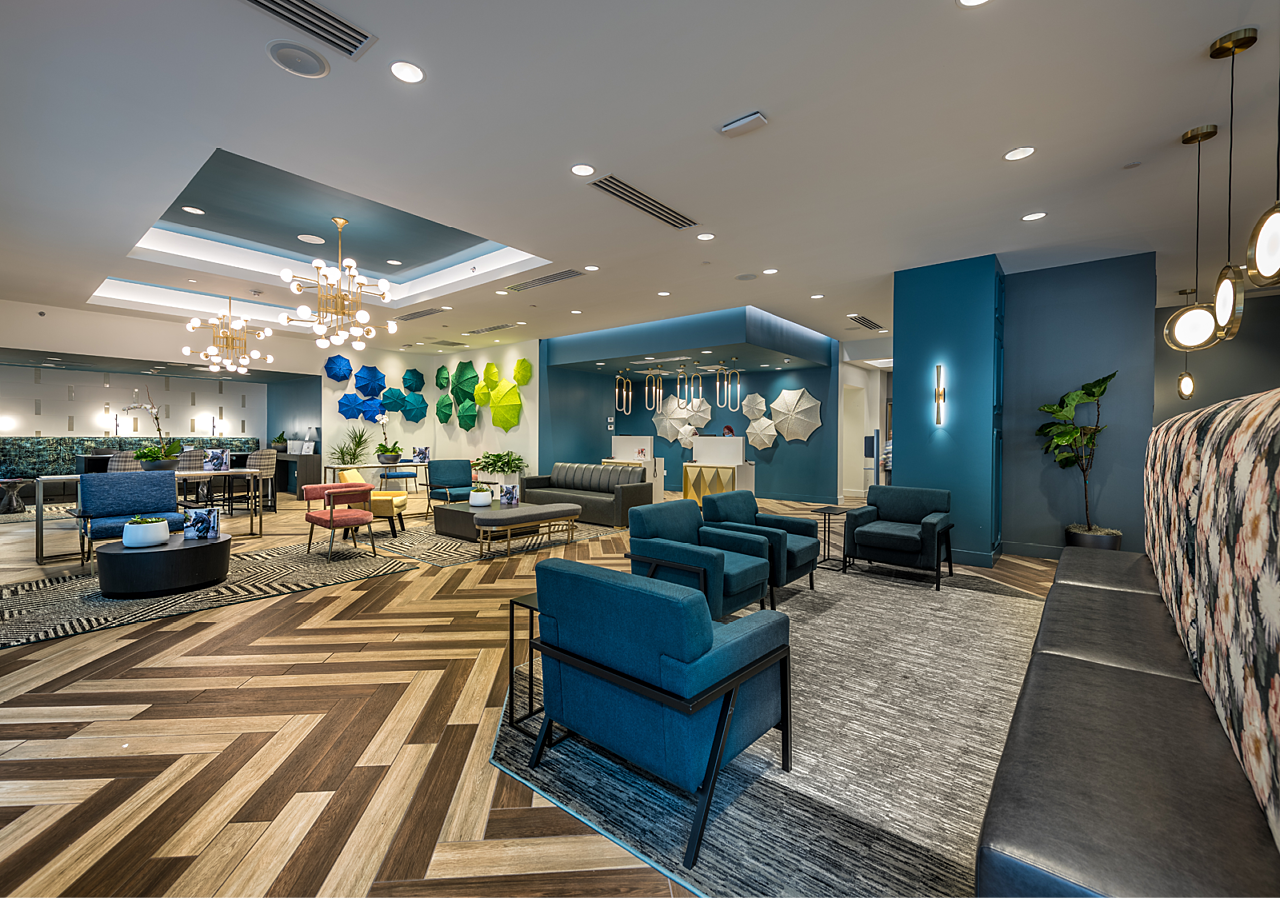 Hotel Indigo French Quarter
Our Q2 Newsletter highlighted the upward trend in New Orleans' hospitality sector. Titled "Continued Recovery in Hospitality Signals a Return to Normalcy," the newsletter featured our recently completed Hotel Indigo French Quarter, the 10-story, 143-key IHG boutique hotel conversion of the historic Royal St. Charles Hotel that DonahueFavret completed more than two decades ago. Despite several challenges during construction, including having to navigate the Omicron variant, the final product artfully incorporates materials and fixtures that were inspired by the character of the Vieux Carre itself.
This project was in collaboration with Campo Architects.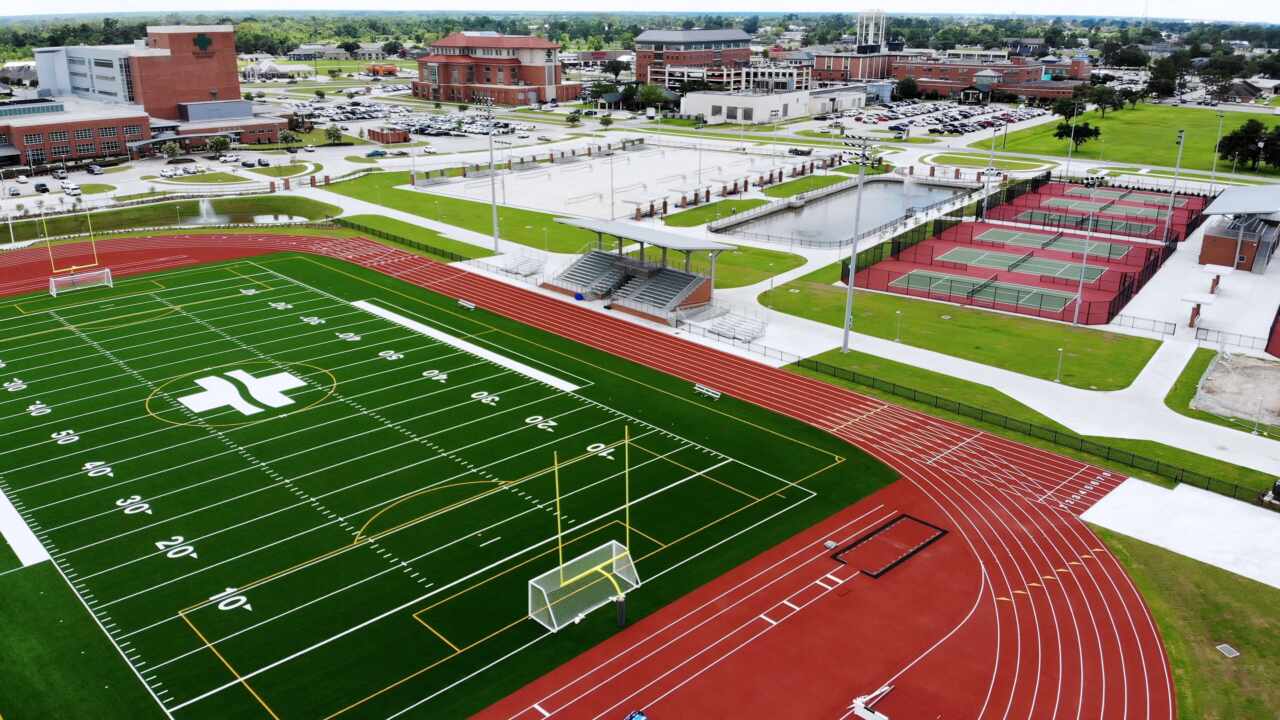 TRHS Sports Complex
The expansion of Thibodaux Regional's Wellness Center brought this new 24-acre Sports Complex to the forefront of health and wellness in southwest Louisiana. Initially featured in our Q1 Newsletter, "The Future of Healthcare Design and Construction," the TRHS Sports Complex fills a gap in healthcare, promoting wellness and preventative care throughout the region. The site boasts 12 tennis courts, 12 sand volleyball courts, football/soccer field, an 8-lane track (all built to NCAA standards), as well as two pavilions, restrooms, concession area, and ponds.
This project was in collaboration with WHLC Architecture.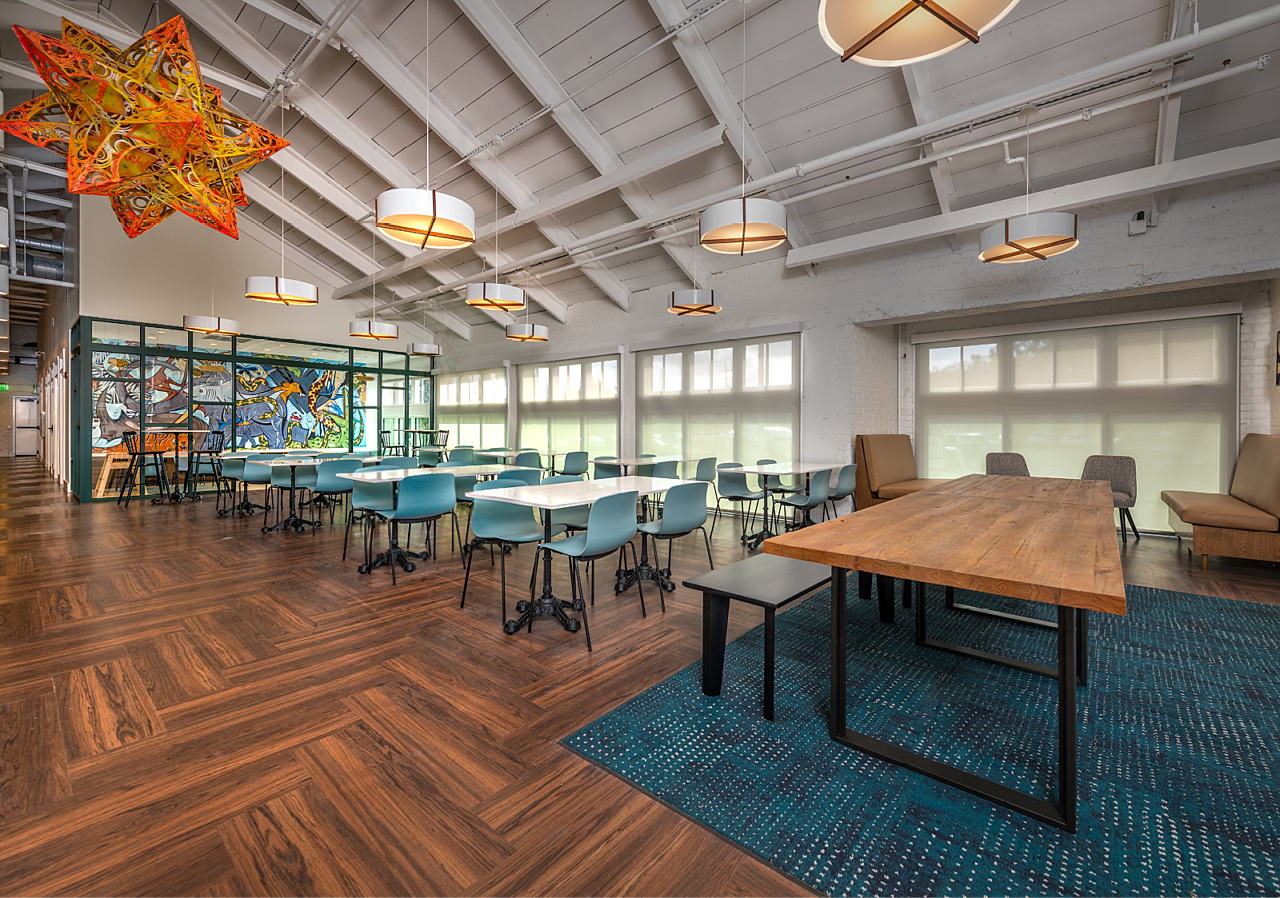 Ronald McDonald House Charities
In partnership with Children's Hospital New Orleans, the new home for Ronald McDonald House Charities features a 17,500-square-foot building that increases accommodations for families by 47% with 22 guest rooms, nine of which can accommodate four or more guests with adjoining rooms for more family members. Families also have access to a 64-person dining room, an outdoor barbecue space, game room, playroom, library and other community spaces that allow for more volunteer-led activities.
The project was in collaboration with EskewDumezRipple.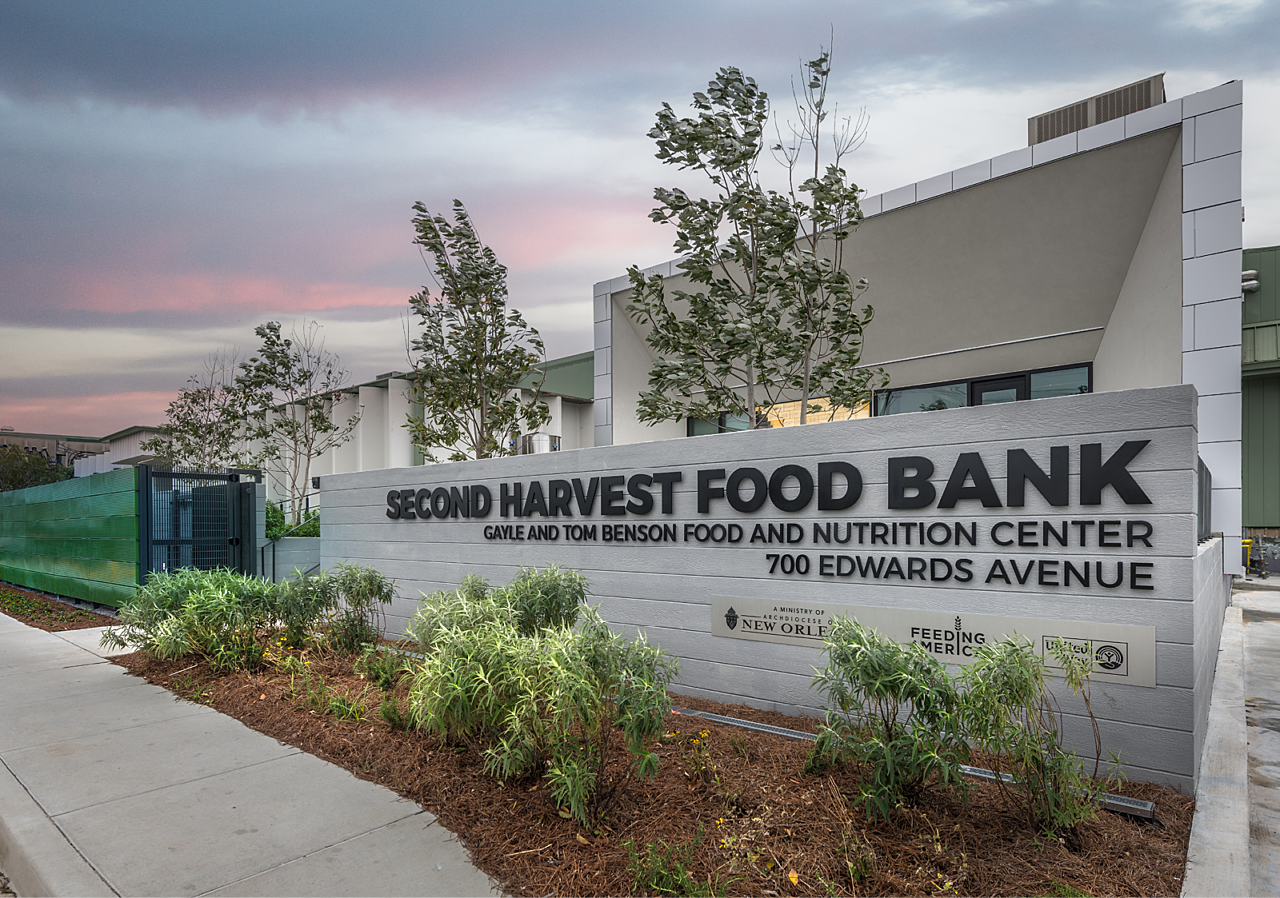 Second Harvest Food Bank
With the celebration of its long-awaited ribbon cutting in October, the final renovations to the Second Harvest Food Bank headquarters brings an additional 75,000 SF to the existing warehouse. The new 2-story addition features office space, a new main entrance, and outdoor space.
The project was in collaboration with EskewDumezRipple.
Our work continues
Progress continues on several major ongoing projects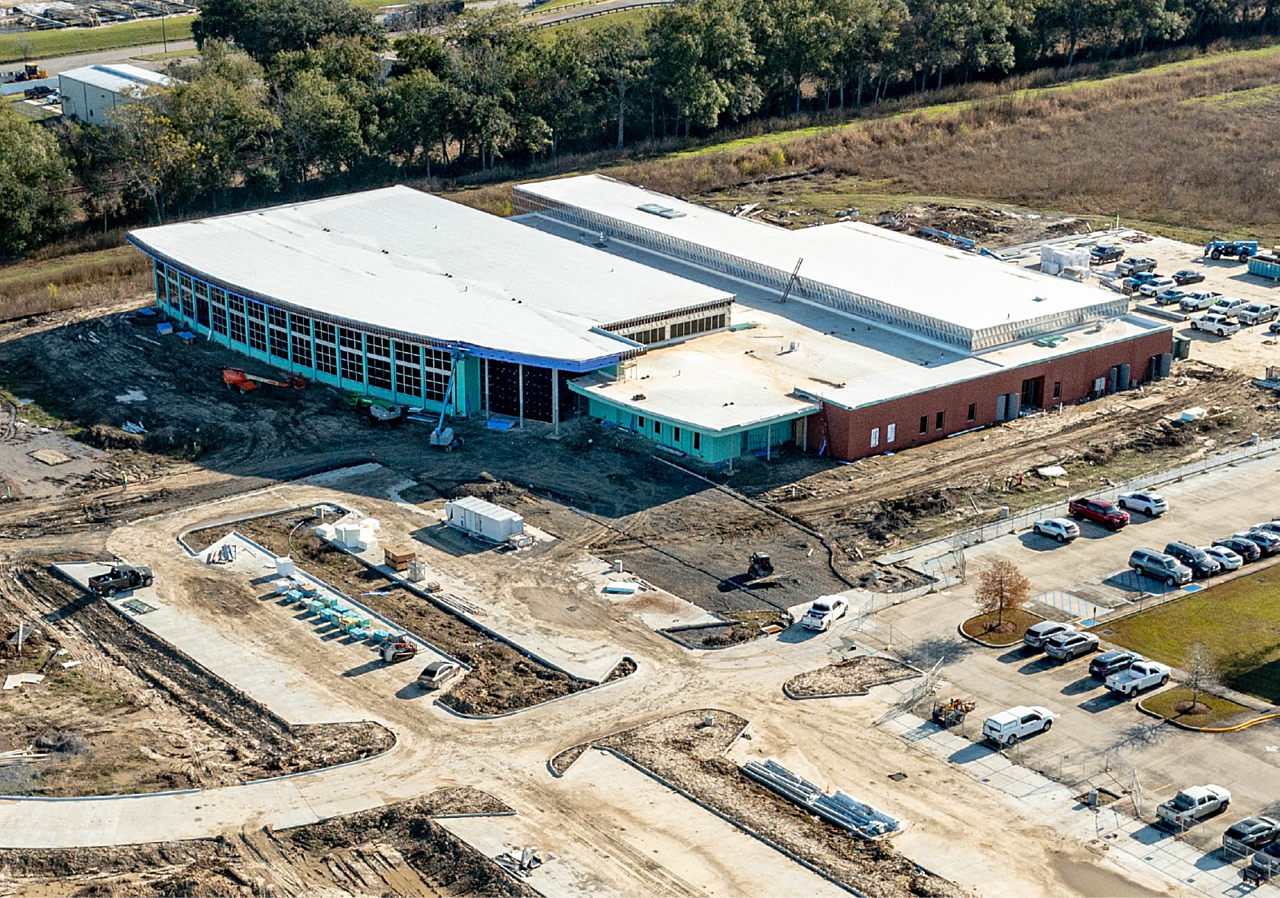 Franklin Foundation Hospital Wellness Center
In collaboration with Grace Hebert Curtis Architects under a CMAR delivery model, the new 63,000 SF ground-up Wellness Center for Franklin Foundation Hospital continues to meet construction milestones as our team works towards a Q1 2023 completion.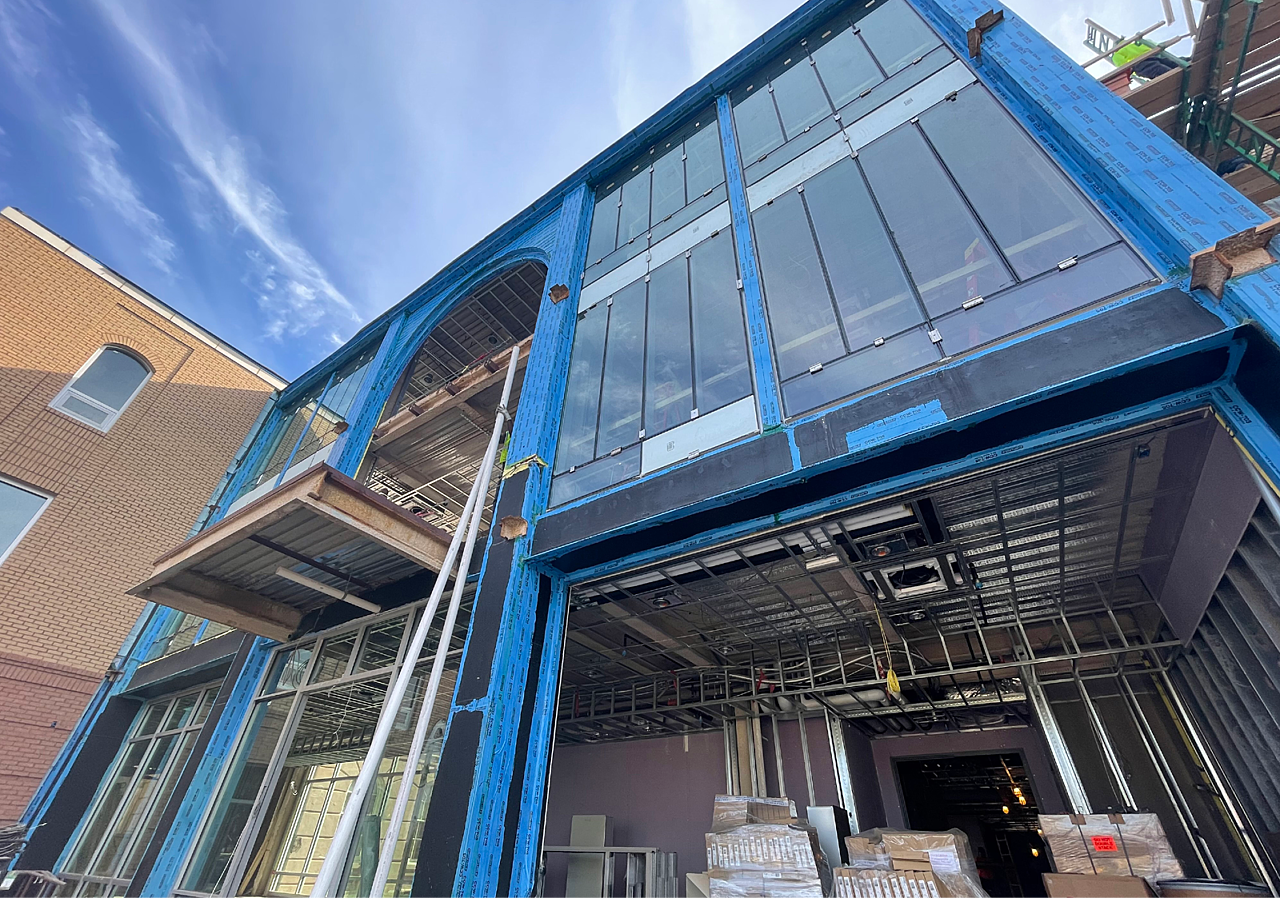 Poydras Home
Our renovation and expansion of the historic Poydras Home in Uptown continues to take shape as we progress towards a Q2 2023 completion. In collaboration with EskewDumezRipple, the development of this elder care facility will follow the national Green House Project model of care providing residents with a less institutional, more residential hearth-and-home style of care.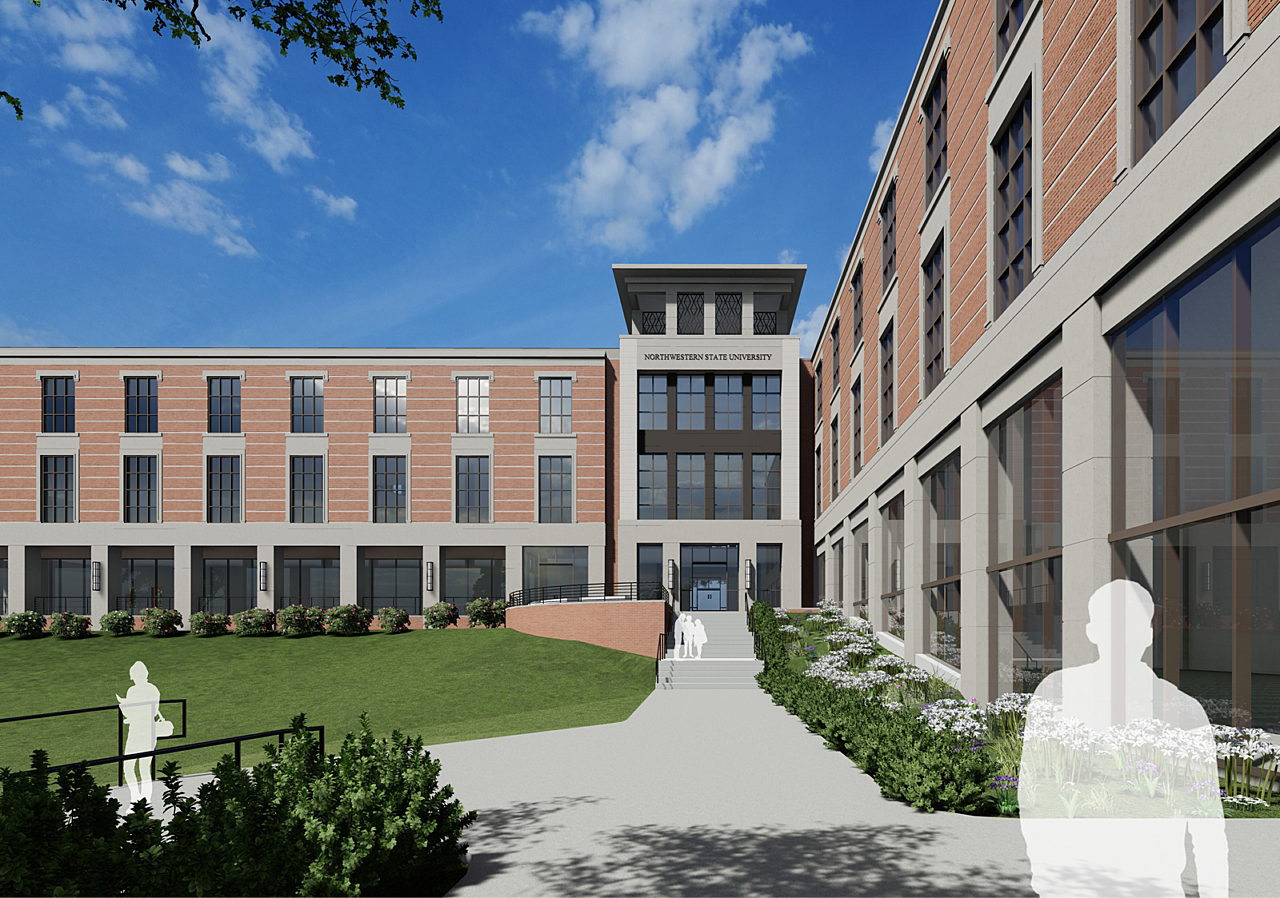 Northwestern State University Kyser Hall
Despite current inflation, delivery, and labor shortage challenges, our Preconstruction Team has successfully navigated through the construction documents phase for Kyser Hall, as well as demolition of the existing Caddo Hall on site. Our team is partnering on this CMAR delivery project with Perkins+Will and ACSW to develop this 74,000 SF multi-story classroom and administrative building for Northwestern State University.
Awards and Recognition
Well-deserved congratulations to our team and clients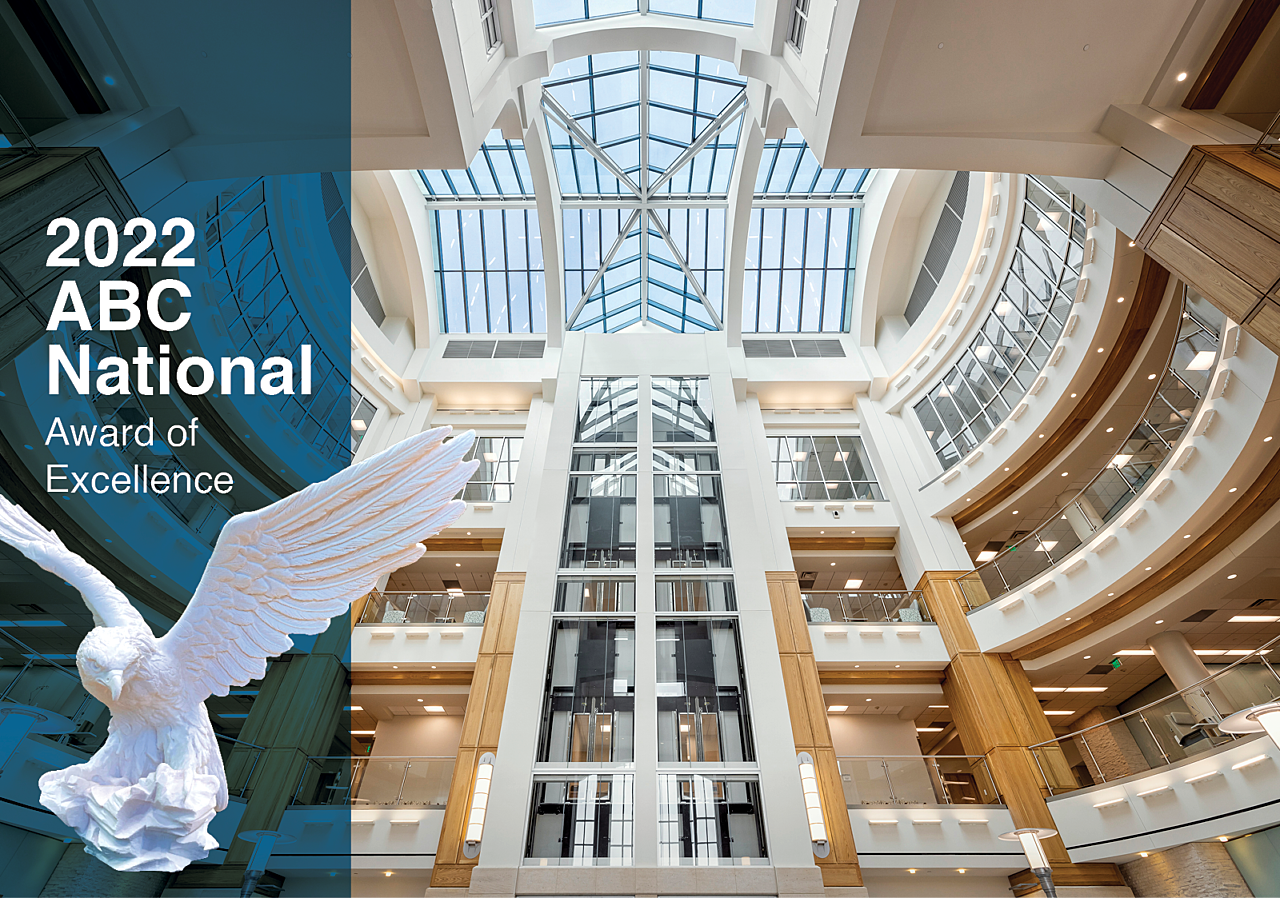 Several Projects Earn Local, National Distinction
Congratulations to our team and client, Thibodaux Regional Health System, for earning a National Award of Excellence through Associated Builders and Contractors. This award represents the highest honor in construction and is awarded to only one project in each category. Earlier this year, the project was also recognized at the local chapter level by earning Merit Gold from the ABC New Orleans Bayou Chapter.
The project was also featured in Healthcare Design's online Photo Tour in October.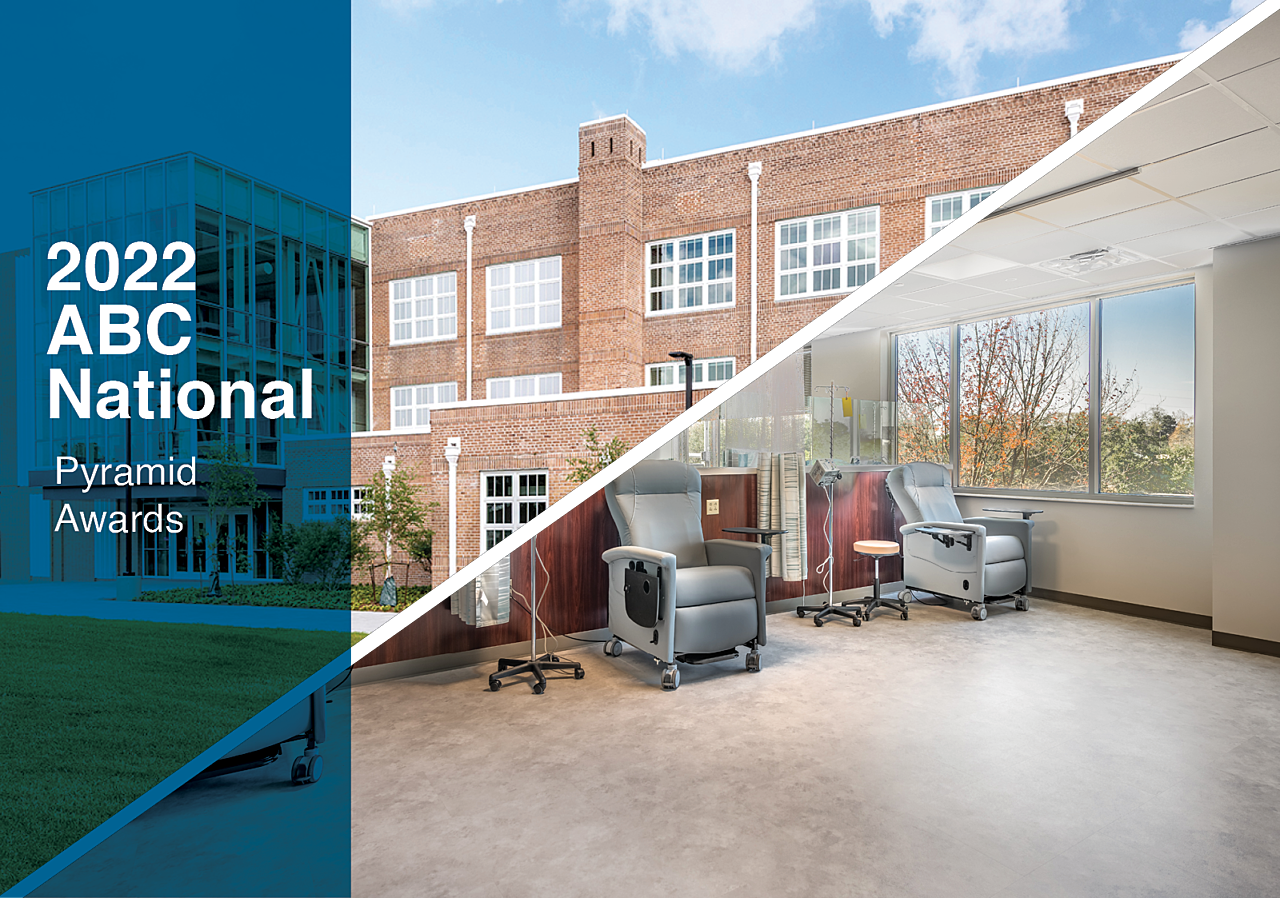 Lycee Francais de la Nouvelle Orleans and Baton Rouge General Infusion Pharmacy also earned significant national and local recognition. Both projects received Pyramid Awards from National Associated Builders and Contractors, as well as Excellence in Construction from the ABC New Orleans Bayou Chapter.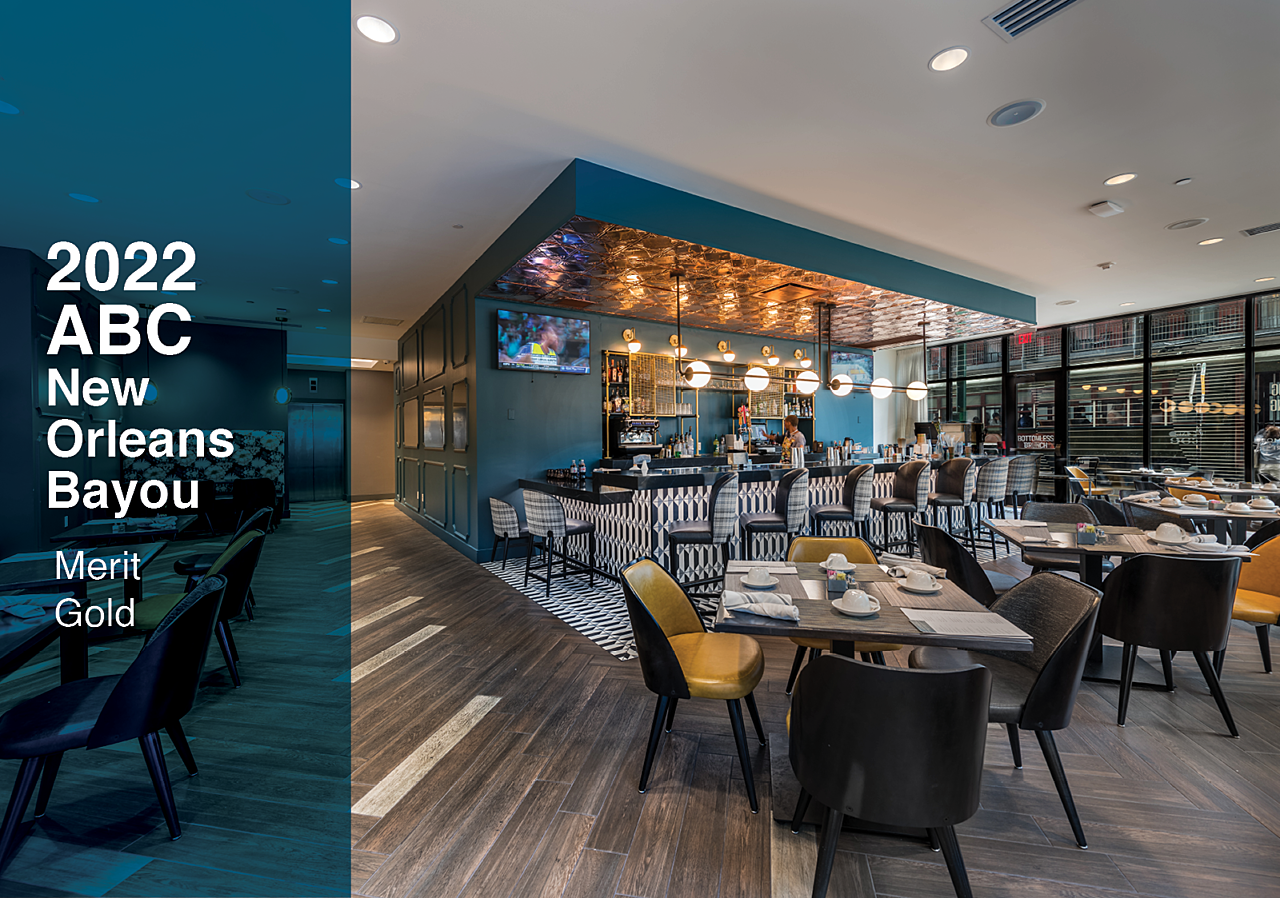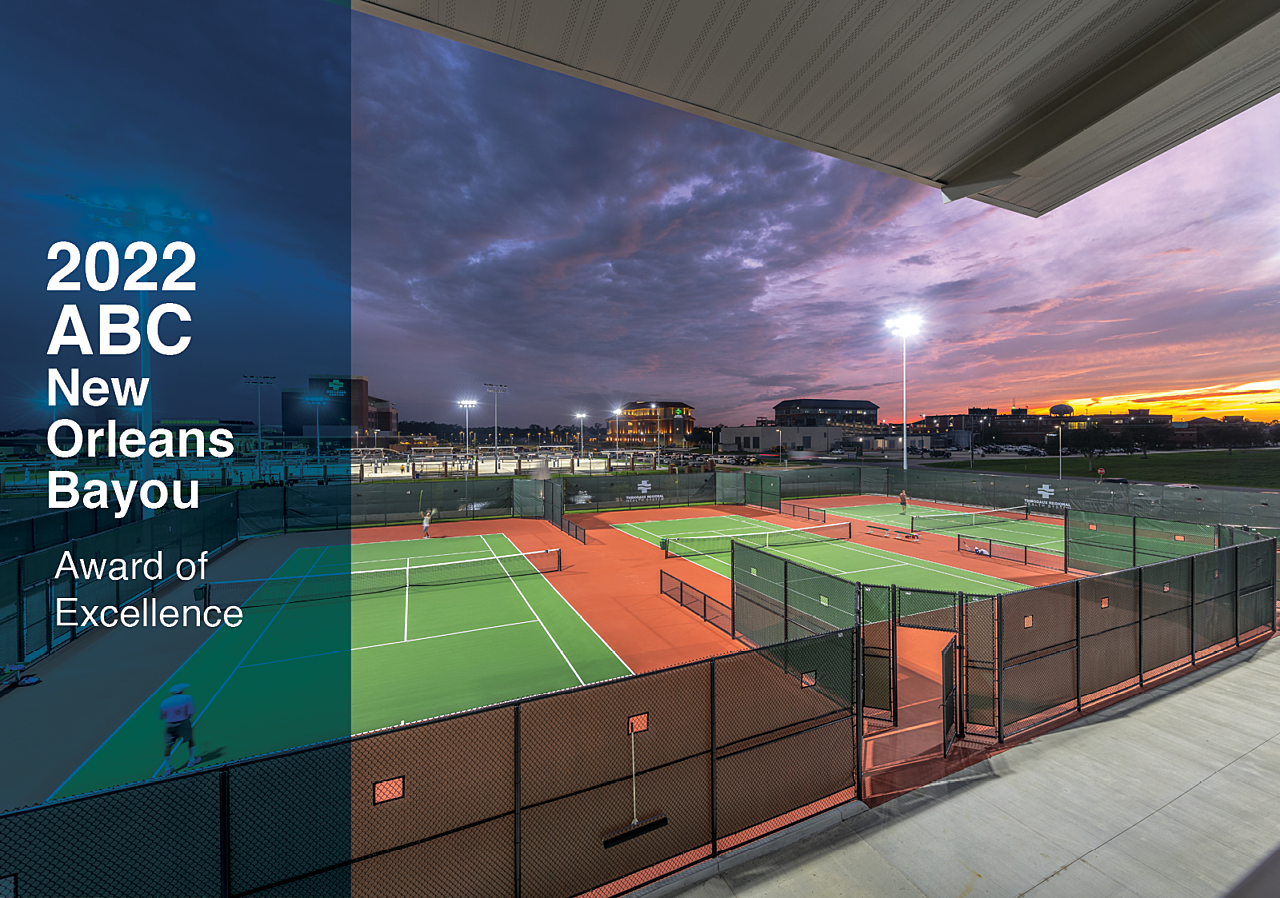 A culture of giving back
DonahueFavret continues its philanthropic tradition
The DFC team had another successful day volunteering for the Women Build 20th anniversary! Women Build is an annual project in which Habitat for Humanity St. Tammany West empowers women, without excluding men, to build homes, enabling them to positively impact the lives of local families by making home ownership a reality.
Our day was filled with hard work for a great cause!
Thank you Habitat for Humanity St. Tammany West for having us!
Our Second Annual Driving FORE Charity Golf Tournament was a massive success! Thank you to all our sponsors and those of you who came out to show your support for our special charities. This year, the tournament raised more than $80,000 for 11 amazing local charities: Family Promise, Habitat for Humanity, NAMI, Safe Haven Foundation, Youth Service Bureau, The Samaritan Center, One HOPE Alliance, Our Friend's Closet, Brain Injury Association of Louisiana, Children's Advocacy CenterHOPE House, and HeartGift -Louisiana Chapter.
A note from
DonahueFavret President & CEO, John L. Donahue, III
Sustained Growth Met with a Strong Desire to Succeed
Despite the current challenges facing our national economy, DonahueFavret saw significant growth in 2022, making this our best-performing year to-date in the company's history. Much of this success, of course, comes from our partnerships with our amazing clients, designers, and trade partners. But it's also the result of steady and intentional growth goals backed by strong financial management. In fact, our company has seen significant growth year over year since the start of the global pandemic in 2020. So, as we look ahead toward 2023, our goal remains the same: continue to pursue projects across a diverse range of well-performing sectors and manage the company through sustainable best practices.
Our team is optimistic looking ahead to next year. Most experts suggest a short-lived recession with economic performance beginning to improve by the second quarter. Still, the cost of construction remains high. Our team is working more diligently than ever with our partners and clients to mitigate any pricing challenges as much as possible. 
Despite these increased costs, we continue to see demand for both new construction and renovation projects across most sectors.
For example, demand for healthcare construction has been steady since the pandemic with no signs of slowing down, and institutional investment for higher education projects remains consistent as well. While the high price of oil has adversely affected many industries across the country, its impact is different in our state, often creating a boom for locally owned companies and infusing new investment in state-funded projects. While our hospitality sector has been slow to recover since the pandemic, we're encouraged to see new opportunities on the horizon with New Orleans hosting the Super Bowl in just a few years. Finally, we're excited that more clients are choosing to utilize progressive delivery methods like CMAR, allowing our team more opportunities to collaborate early with design partners and owners. Sustained growth must be intentional and met with a strong desire to succeed. Our team looks forward to the year ahead with our partners and clients, because we know our success is shared with them as well. From our team to yours, we wish you and your family a very Merry Christmas and a successful New Year!
John L. Donahue, III
President & CEO
DonahueFavret Contractors, Inc.