Maximizing brick-and-mortar's potential through meaningful in-person experiences.
As a consumer-driven sector, retail has seen an acceleration in customer-related trends largely brought on by the pandemic several years ago. In a recent article by TotalRetail, traditional brick-and-mortar stores have evolved, trying to remain competitive with the increase of e-commerce, two-day shipping, and the "click and collect" shopping model. The point of sale now heavily focuses on providing meaningful in-person experiences for shoppers using a variety of strategies to get people in the door.
By embracing digital purchasing data, retailers can analyze customers' website interactions and integrate their online purchasing journey into the physical store – tailoring the store's physical layout, design, and use of materials to create the preferred customer experience. This creates an experience beyond the point of sale and keeps customers excited to come back.
Our team recently completed The Backpacker, a new 7,000 SF retail store focusing on outdoor gear and apparel. The store makes use of an outdoor and nature-inspired material palette and an open layout to create a unique customer experience. Dressing rooms mimic tent structures with canvas walls, and a custom-built light fixture is made from a recycled canoe. The store features a working wood fire place.
Furthermore, retailers are looking to the hospitality sector. Often seen in luxury retailers, brands are leaning on best practices from hotels and high-end restaurants for new ways to engage with customers on a personal level. Comfortable lounge-type seating, high-top tables, and digital point-of-sales are a few examples that enhance both service and final transactions.
For example, there are striking similarities between projects our team has completed in both hospitality and retail. Le Meridien (top and middle left) and Trenasse (bottom left) exhibit many of the same design qualities as some of our recent retail projects - Lakeshore Chrysler Dodge Jeep Ram (top right), the Backpacker (middle right), and Campus Federal (bottom right).
Material selection and layout are critical to the customer experience. "When the shopper is comfortable, they're more inclined to linger... creating more opportunities for the sales team" TotalRetail, 2023.
Customer experience begins with design and construction trends.
While an elevated customer experience is the goal, the ways by which retailers are reaching that goal are driven by trends in design and construction. According to City, a global leader in retail facility management and strategy, there are several trends influencing the design and construction of brick-and-mortar stores.
Rising energy costs, customer sustainability concerns, and net zero goals are impacting retrofit projects and new buildouts. The increased demand for energy efficiency and sustainability from many leading retailers places even further demand on better HVAC systems that can improve indoor air quality. Given the current challenges with market volatility and supply chain, project teams are pushing for early-release on long-lead items to ensure projects are delivered on time.
Grocery-anchored retail is a driving trend.
E-commerce growth continues to rise, but US Census Bureau data shows that a vast majority of retail sales still occur in physical stores. Grocery-anchored retail centers are one of the main driving forces. Characterized by a major grocery store as the largest tenant with smaller shops or "in-line" tenants alongside, this subsector fills a necessary demand for consumers and continually brings foot traffic to the door.
Located on 6.5 acres at the northwest corner of North Carrollton Avenue and Bienville Street in Mid-City New Orleans, Mid-City Market is a 115,000 SF urban infill shopping center.
Anchored by Winn Dixie, the shopping center offers several restaurant and lifestyle-focused tenants for shoppers. It represents one of the most significant retail developments in New Orleans since Hurricane Katrina.
Brick-and-mortar retail has proven that it can continue to evolve and meet demand despite economic challenges and pandemic-related consumer trends. Collaborative design and construction teams are critical to this success, working with retailers and investors to develop flexible, experience-driven spaces, and bring these to market quickly to minimize waste and meet demand.
Our team continues to have success in retail construction and is excited to see retailers and investors continue to show optimism in this steadily growing sector. In total, our team is responsible for more than 3.5 million SF of retail space from ground-up to adaptive reuse. This includes work with 10 national tenants such as Target, Walmart, Lowe's, Aldi, and Niagara Bottling.
Noteworthy Projects and Recent Completions
Poydras Home New Addition
Our team recently completed the 60,000 SF new addition to Poydras Home in uptown New Orleans. This signifies phase one of two, as our team is currently in the process of renovating the existing historic facility. This addition was designed in collaboration with the Green House Project, a national senior assisted living consultancy, making it the only facility of its kind in Louisiana under this innovative model of care.

Franklin Wellness Center, Bayou Bend Health System
We've reached the completion of this stunning 63,000 SF wellness center for the Franklin community. With the grand opening in early July, this ground-up facility includes outpatient medical clinics, cardio and physical rehab, fitness and exercise studios, exercise and lap pools, outpatient mental health, conferencing/meeting areas, coffee bar/café, short-term childcare, and support services.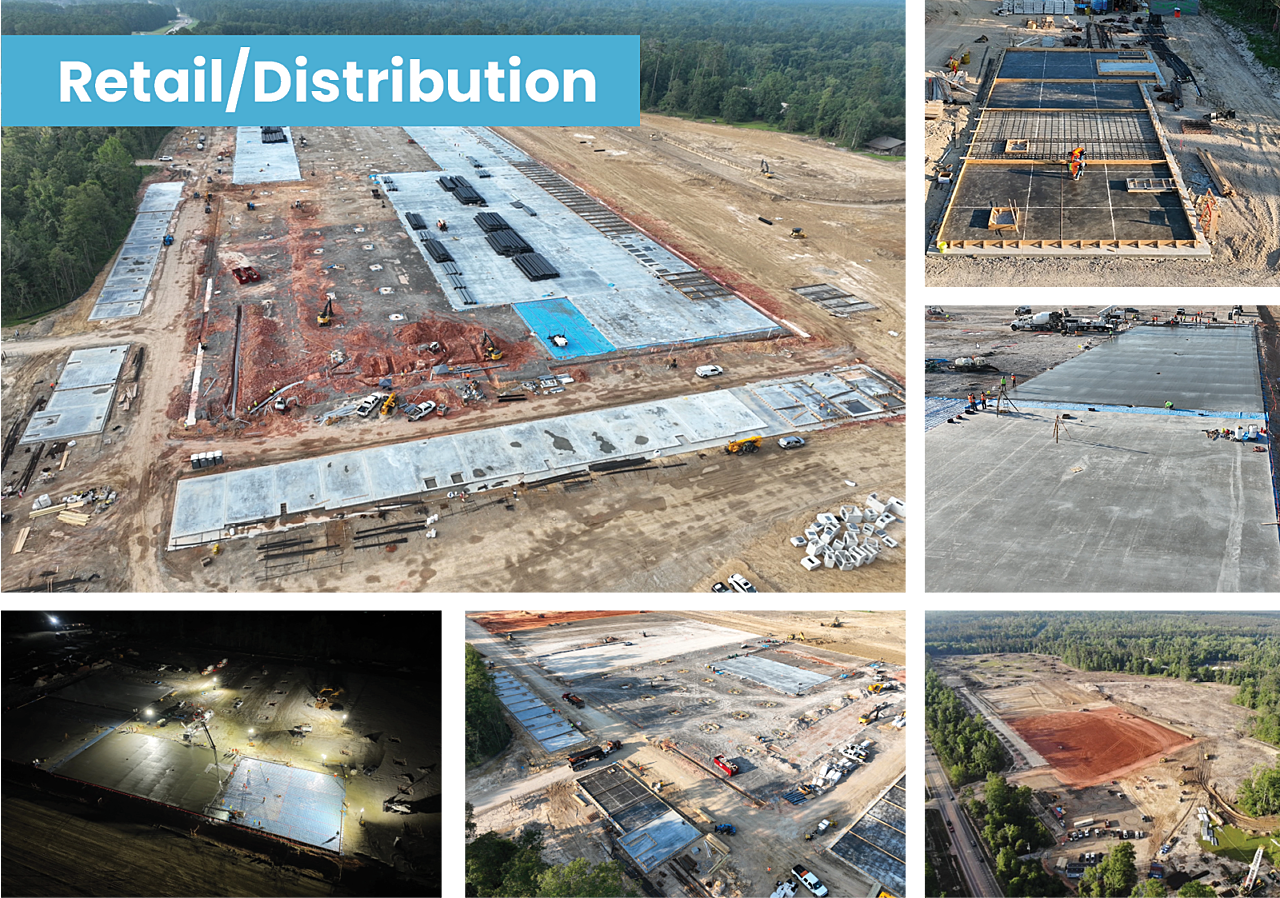 Niagara Bottling
In partnership with nationwide contractor Choate Construction Company, our team is hard at work on an extraordinary project – a new 500,000 SF facility for Niagara Bottling, one of the nation's leading beverage manufacturers. This new facility will contain advanced equipment and technology that will increase production efficiency to allow the company to meet growing demand. We are currently in the process of pouring the foundation slab and tilt wall panels which will form the facility's exterior façade.
Resource Bank
We continue to make great progress on the new 18,000 SF branch office for Resource Bank. When complete, it will include banking and office space on the first floor, shell spaces for future office build-outs on the second and third floors, and private conference/event space with a rooftop terrace on the fourth floor.

Slidell Memorial Hospital
Our team has gone vertical at Slidell Memorial Hospital, erecting steel for the new 60,000 SF addition to Slidell Memorial Hospital. The $50 million project will expand the hospital's main campus with a brand-new set of operating suites, an additional ICU, and an additional inpatient care unit.

LOSGH Main Hospital
DonahueFavret was recently awarded this CMAR project with Lady of the Sea General Hospital. After being severely damaged during Hurricane Ida, the new ground-up 80,000 SF hospital will include 23 inpatient med surg beds, ICU Unit, emergency, radiology, labs, and cardiopulmonary services, among others.

Matt Bowers Ford
Our team is well underway on the construction of this 40,228 SF design-build renovation for Matt Bowers Ford. Located in Metairie, Louisiana, this auto dealership is on track for completion early next year.

Driving FORE Charity Back for Another Round
Mark your calendars!
We look forward to seeing everyone again this fall for another successful tournament. Get your teams ready now! For anyone still interested in sponsoring the event, please contact Lauren Andrews at 985.626.4431 or at laurena@donahuefavret.com.